Experience- and Reality-Based Self-Defense
DVD
Peyton Quinn, Bill Kipp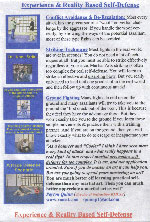 There's a distinct reason that we call this the "Basics Package." It is so titled because it introduces you to every vital fundamental you need to know to survive a violent encounter.
In this three-DVD set, Peyton Quinn and Bill Kipp introduce you to the essentials of violent offender behavior, de-escalation and conflict avoidance, as well as how to function under adrenal stress, effective striking, fighting from the ground, and escapes.
We know of no other such RELIABLE and all inclusive self-defense package (especially in this price range). If we did, we'd be selling it.
There are many 'killer kung-fu commandos who claim their DVDs cover this information -- and they'll sell you their version for between $300 and $800. Having seen these products, we can tell you that they fall very short on their claims of being 'reality based.'
And what this package lacks in classy packaging, it more than makes up for in life-saving information.
Experience- and Reality-Based Self-Defense, Peyton Quinn, Bill Kipp (RMCAT) three-set DVDs, color
Three-set DVD Item# DERBSDDVD
DVD -- $85 Retail: $90
---
Don't forget to check Package Deals for extra savings!