Carlos Hathcock: His Own Words
DVD
Carlos Hathcock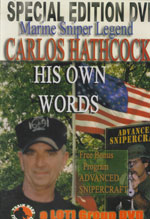 "One shot, one kill" is the sniper's creed.
And U.S. Marine Gunnery Sgt. Carlos Hathcock was transformed into a military sniper legend with 93 confirmed and more than 300 probable kills in Vietnam.
In the ONLY on-camera interview he ever granted, this American hero tells of his exploits in his own words, including a five-day sniper engagement that wiped out an entire VC company; a 2,500-yard kill with a .50 cal Browning, plus insights and tips from the infamous "White Feather" himself.
An a special bonus feature of this DVD teaches you about the latest in sniper training, technology and psychology. Find out how sniper teams hone their skills for real world operations. This and more is included in Advanced Sniper Craft.
Carlos Hathcock: His Own Words/Advanced Sniper Craft (Loti Group) color, approximately 90 minutes
DVD Item# DhathcockDVD
DVD -- $22 Retail: $25
---
Don't forget to check Package Deals for extra savings!