Active Shooter Assault Procedure DVD
Chuck Habermehl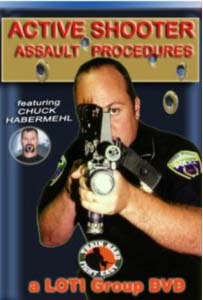 School shooting, workplace shootings or a rampage shooter at the local mall. An individual who is legally carrying a firearm can unexpectedly find him or herself in a life and death situation with no warning.
This DVD is when lives are on the line. When you cannot wait for SWAT, Special Response, HRT, ERT ... it doesn't matter who everyone expects to come and save them.
Hostage takers making financial or other demands are good candidates for the expert skills of a trained negotiator. Not so the active shooter. He is a rampage killer. This homicidal and suicidal predator intends to murder as many people as possible. Make no mistake: the active shooter wants you dead for nor apparent reason. And he can make it happen very suddenly in a public place. You can t just stand by and hope for a happy ending. He must be neutralized at the earliest opportunity.
Habermehl has more than 20 years of law enforcement experience as a police chief, tactical trainer, firearms instructor and SWAT team commander.
Active Shooter Assault Proceedure, Chuch Habermehl (LOTI Group) 105 minutes
DVD Item# DactiveshooterDVD
DVD -- $22 Retail: $26
---
Don't forget to check Package Deals for extra savings!