Crime Prevention
On this page we offer a short description of the items. By clicking on the picture or title, you can get a more in-depth information on the product. The Order Now link will take you directly to check out.
---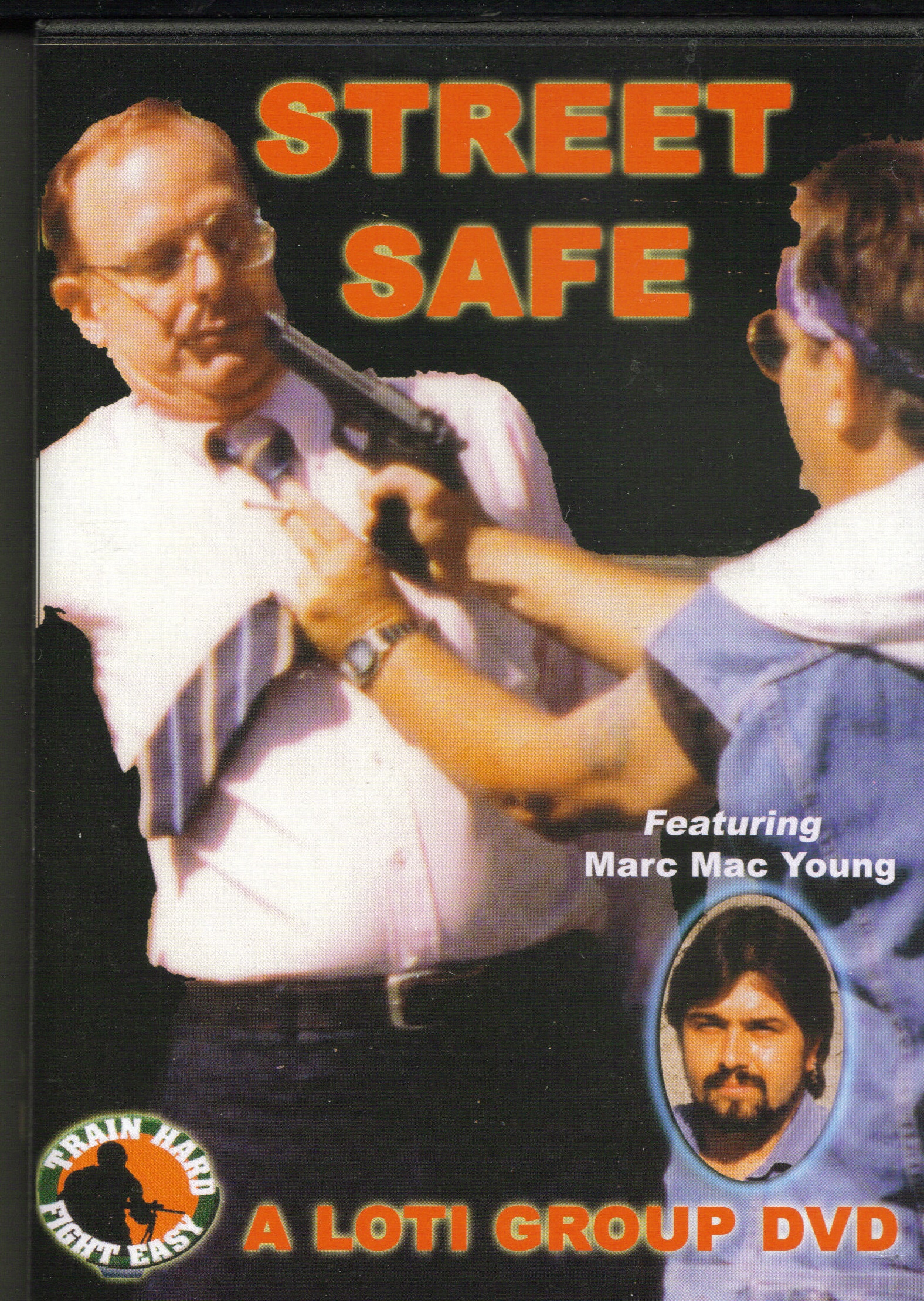 Street Safe: How to Recognize And Avoid Violent Crime Before It Happens (DVD)
Marc MacYoung
A criminal assault is fast, vicious and overwhelming. And that's why criminals attack that way. It ensures their success. What you may not know is that it takes time to develop these conditions. This makes the street thug predictable. There are definite danger signs that precede criminal attacks. This video will teach you how to recognize those signs so you can take nonviolent steps to prevent the criminal from attacking. And if the situation does turn violent, you will learn how to articulate to the police and courts important details about the situation -- and why you reacted the way you did. DVD $24 Order Now!
---

Missing Link: Self-Protection Through Awareness, Avoidance and De-escalation
Bill Kipp
The absolutely, bar none, best defense for a fight ... is not being there! Unfortunately, this missing link in self-defense training has been largely ignored. Self-defense expert Bill Kipp teaches you the verbal and psychological skills needed to preempt violent attacks and end fights before they start.
DVD $37 Order Now!
---

Safe In the City: A Streetwise Guide to Avoid Being Robbed, Raped, Ripped Off or Run Over
Marc MacYoung/ Chris Pfouts
Take two street savvy denizens of two major cities on each coast -- New York and Los Angeles -- put them together and you end up with a book that is both entertaining and knowledgeable on how crimes really are committed. Companion book to StreetSafe DVD.
Book $25 Order Now!
---

Freedom From Fear: Taking Back Control of Your Life
Peyton Quinn
Whether dealing with a street thug or an overbearing boss at work, you're facing a bully. And there are specific ways your body and your mind will react to the threat. Unfortunately, many people involuntarily send the message that they are safe to attack. Learn how this process works, so you can take control of it. And instead of signaling that you are a good victim, you can learn to send messages that prevent conflict.
Book $18 Order Now!
---

Surviving Workplace Violence: What to Do Before a Violent Incident, What to Do When Violence Explodes
Loren Christensen
Surviving Workplace Violence provides solid information to keep you off the growing list of victims of violent incidents on the job. The book answers the hard questions that company directives, magazine articles and other books leave out: Exactly what you should do before a violent inciden,t and what you should do if violence ever explodes where you work.
Book $13 Order Now!
---

Real World Self-Defense: A Guide to Staying Alive in Dangerous Times
Jerry Van Cook
Practical solutions to violence? Real World Self-Defense offers wise advice for dealing with everything from an unwarranted physical attack to the legal aftermath. As a former undercover police officer, Jerry VanCook knows from personal experience what works -- both on the street and in the courthouse -- and what doesn't.
Book $18 Order Now!
---

Minimum Damage, Maximum Effect: A Complete Guide to the Use of Pepper Spray, Less Lethal and Improvised Weapons
Kelly McCann (aka Jim Grover)
Opposed to carrying a firearm, knife or other lethal weapon? Kelly McCann's book is a handy guide that takes a look at nonlethal weapons that can be used to stave off an attacker!
DVD $37 Order Now!
---

Street Smart, Firearms and Personal Security: Jim Grover's Guide to Staying Alive
Jim Grover (aka Kelly McCann)
This book covers the entire spectrum of personal security with street-savvy ideas and twists. Learn how to improve the physical security of your home; develop street smarts; stay safe while traveling; recognize and avoid crime; keep your children safe from grade school through college; choose and effectively use nonlethal weapons; engage in unarmed combat if necessary; and utilize practical shooting skills perfected from real-life situations.
Book $33 Order Now!
---

Effective Defense: The Woman, the Plan, the Gun
Gila Hayes
For any woman considering buying a gun for personal and home protection, Effective Defense is required reading. In addition to current information about assault and crime prevention, the book carries detailed information about gun and holster selection, legally carrying a concealed handgun, home safety and home defense concerns and other issues facing today's women. Highlights include: developing the self-defense mindset; unarmed defenses; threat detection and avoidance; legal use of deadly force; handgun selection; children and gun safety; rape prevention; workplace violence and much more. Book $16 Order Now!
---

Terror at Beslan:A Russian Tragedy with Lessons for America's Schools
John Guiduck
A complete and accurate report on the Russian Beslan School siege by Chechen terrorists Sept. 1, 2004, Terror highlights the untold stories of the victims, the soldiers who responded and the events leading to this tragedy. But more than just the story, Terror at Beslan highlights the lessons America's schools must learn from this catastrophe to protect themselves from terrorism. This book's realistic "play-by-play" account of the events at and around the school should be required reading for law enforcement, school officials, concerned parents and citizens across the U.S. Book $24 Order Now!
---

Gunproof Your Children and A Handgun Primer
Massad Ayoob
This is actually two books for the price of one! It's vital to Gunproof Your Children --whether you are pro- or anti-gun, whether your home has 50 firearms or none, this book is a MUST. Keeping children safe from unauthorized guns in their hands or those of others is covered from every direction, including gun locks, methods of storage, and, above all, safety training for children and adults. Handgun Primer is a compact introduction for the novice to the handgun. Real world handgun safety, how to shoot, when to fire in self-defense, and gun/ammo/holster choices are discussed by this leading expert. In the world of handgun safety, knowledge is crucial. Book $4.50 Order Now!
---

Affordable Security: A Do-It-Yourself Guide to Protecting Your Home, Business and Automobile
Steven Hampton
In this complete, hands-on guide, security expert Steven Hampton, tells you everything you need to know to secure your home, business, car and more –- without breaking the bank! Hampton walks you through a thorough evaluation of your security status, using "security review check lists" that will help assess your property's vulnerability from every angle, just as a security professional –- or a professional burglar –- would. Once you've identified the holes in your security, Hampton shows you how to shore it up from securing doors, windows, yards, sheds and garages using simple, but little-known, tricks of the trade to creating safe and effective indoor and outdoor lighting solutions to selecting the right type of perimeter alarm system and motion detectors to meet your needs. Book $39 Order Now!
---

Home Security: How to Select Reliable Locks and Alarms for Your Home, Office or Car
Carl Hammer
This book reveals how burglars actually target and break into buildings. And it offers proven techniques and tactics for thwarting criminals, ranging from neighborhood vandals to the most sophisticated art thieves.
Book $22 Order Now!
---
To Order by Check/Money Order
No Nonsense Self-Defense
200 S. Wilcox St., #124
Castle Rock, Colo. 80104
PayPal also accepted.
For more information, contact No Nonsense Self-Defense (303) 814-0976 between 10 a.m. and 6 p.m. Mountain Standard Time, USA.
---
Back to NNSD Main Page