Emotional Survival For Law Enforcement
A Guide for Officers and Their Families
Kevin M. Gilmartin, PhD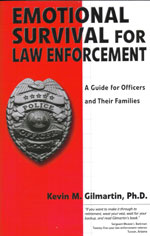 This book is a "must read" for every cop, everyone who ever thought of entering law enforcement as a career and, most of all, for anyone who is involved with an LEO.
Emotional Survival also provides insights and help for any professional in a high-stress career.
This book is designed to help those professionals overcome the internal assaults, both personal and from the organizationa, that they will experience over the course of their careers.
These attacks can transform idealistic and committed people into angry, cynical individuals, leading to significant problems in their personal and professional lives.
After reading the wise and profound insights offered in this book, professionals and their families can experience a law enforcement career as emotional survivors, instead of falling by the wayside as victims of predictable and preventable challenges.
Emotional Survival for Law Enforcement: A Guide for Officers and Their Families, Kevin M. Gilmartin, PhD, (E-S Press) 143 pages, ISBN 0-717254-0-3
Softcover Item# Bemotionalsurvival
Book -- $18 Retail: $19.95
---
Reviews of this book include:
Emotional Survival is a must read for the men, women and families of those who enter the field of law enforcement. Kevin Gilmartin shares his tremendous insight into the real 'rollercoaster journey' that police officers will take during their careers. Reading this book could save your life, your marriage and the lives of your children. Thank you, Kevin, for sharing with all of us your insight and strategies for survival -- Lt. Col. Ronald J. Guilmette, Massachusetts State Police (retired), director, Massachusetts Police Leadership Institute
---
For years, I thought my No. 1 job was to live through 25 years of street encounters. After 13 years of experience, I realize my goal is not just to survive the street, but to live a life filled with relationships that bring me happiness and fulfillment ... Dr. Gilmartin's book, Emotional Survival, breaks us out of our denial about the effects of police work and gives us helpful, practical concepts we can use to make our work and home life better. It is good for cops, families, police departments and communities. -- Sgt. Robert J. King, president, Portland Police Association, Portland Police Bureau, Oregon
---
Don't forget to check Package Deals for extra savings!