The Missing Link
Self-Protection Through Awareness, Avoidance and De-Escalation
Bill Kipp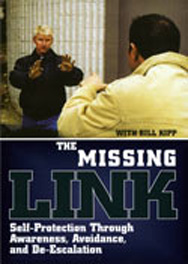 The absolutely, bar none, best defense of all for a fight ... is not being there! Unfortunately, this missing link in self-defense training has been largely ignored.
Self-defense expert Bill Kipp teaches you the verbal and psychological skills needed to preempt violent attacks and end fights before they start. Kipp first explains the normal human reactions to confrontation, and how they can instantly mark you as an easy target. He then reveals strategies allowing you to take control of a situation, assertively de-escalate potential conflicts and repel would-be attackers.
Through a variety of dramatic scenarios, you'll also learn when and why to make eye contact, how not to get "hooked" by a predator's taunting words and the secrets of transforming the adrenal rush of a confrontation into an effective, assertive defense.

Kipp is the founder of FAST Defense, a company that specializes in providing reality-based self-defense training. A former Marine Recon team leader, he has more than 30 years' experience in the martial arts.

And The Missing Link is an important self-protection video and a must-see for anyone serious about personal safety.

The Missing Link (Paladin Press) color, 90 minutes (adult language).

DVD, Item# DmissinglinkDVD
DVD -- $37 Retail $39.95
---
Don't forget to check Package Deals for extra savings!