Reflex Action
Training Drills for Fighting Skills
Bob Orlando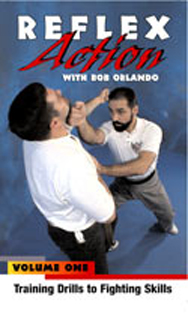 In his methodical, no nonsense style, Bob Orlando provides simple, practical flow drills specifically to program combative skills into your muscle memory.
A long time kuntao-silat and Chinese kenpo practitioner, Orlando teaches how to use partner and solo training drills to develop fighting skills.

On the two-disk set, he shows simple and advanced partner drills that teach critical defensive skills and the basics of combat movement. The drills efficiently combine upper body use (arms, elbows and forearms) and lower art (knees and feet) techniques into a skills set that develops fighting ability and reflexes faster than any other training method available.

Reflex Action (Paladin Press) color, approximately 160 minutes.
DVD, Item# DreflexDVD
DVD two-disk set -- $77 Retail: $79.95
---
Don't forget to check Package Deals for extra savings!