Restraint and Control Strategies
State of the Art Defensive Tactics
for Law Enforcement & Security Professionals
DVD
Loren W. Christensen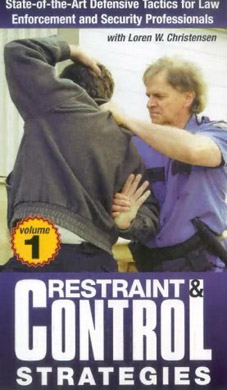 Retired police officer and ranking martial artist, Loren Christensen knows well the "mean streets." Duty as a military MP took him from the dangerous streets of war-torn Saigon to a later law enforcement career that included the crime-ridden section of Portland's infamous skid row.
In this two-disk set, Christensen distills more than 25 years of law enforcement and martial arts defensive tactics training into a street-proven system that is efficient, easy to learn and legally defensible.

Christensen provides a tightly structured, personal seminar that teaches you the secrets of making the joint locks, holds and takedowns you already know even more effective when used on a suspect. This tape also reveals pressure point controls that really work, striking techniques that maximize pain, but minimize injury, and critical combative principles that will come to your rescue if your techniques fall completely apart.

Although designed for law enforcement, this video set also is an invaluable tool for any practitioner who wants to make joint lock techniques street effective.

Restraint and Control Strategies: State of the Art Defensive Tactics for Law Enforcement and Security Professionals (Paladin Press) color, approximately 195 minutes.
DVD, Item# DrestraintDVD
DVD -- $145 Retail $149.95
---
Don't forget to check Package Deals for extra savings!