Safe in the City
A Streetwise Guide to Avoid
Being Robbed, Raped, Ripped Off or Run Over
Marc MacYoung, Chris Pfouts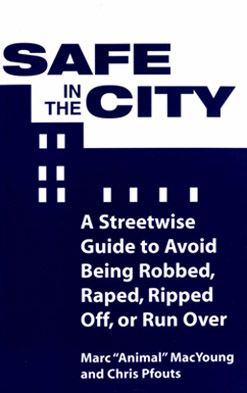 Take two street savvy denizens of two major cities on each coast -- New York and Los Angeles, put them together, and you end up with a book that is both entertaining and knowledgeable on how crimes really are committed.
Marc MacYoung (Los Angeles) and Chris Pfouts (New York) discuss trends in criminal street activity on each coast.

Both writers are street savvy observers of criminals in action in their home territories -- deserted alleys, 'hoods and parking lots -- the same places you may meet these predators.

In this definitive volume, they teach you how muggers, carjackers, junkies, rapists, gang bangers, burglars and conmen play their games. And they tell you how you can change the rules -- or cheat -- to stay safe in the city.

In general, criminals look for easy targets. The practical, potentially lifesaving street wisdom in this book will help you harden your defenses and sharpen your wits before you find yourself in trouble -- like halfway down an unfamiliar city block, watched by unsavory characters and getting that awful sinking feeling you are being "interviewed" as a prospective victim.

Safe in the City: A Streetwise Guide to Avoid Being Robbed, Raped, Ripped Off or Run Over (Paladin Press) 1994, 293 pages, ISBN 978-0-87364-775-5.
Softcover, Item# Bsafecity
Book -- $24 Retail: $25.95
---
Reviews of Safe in the City include:
As a professional security specialist, I can say without hesitation that this book is one of the best written on the subject of street crime. MacYoung and Pfouts know their subject intimately well, and their research into criminal psychology is more thorough than a semester of Criminal Justice in college! I tested the veracity of this book while working as a private investigator; my bosses were retired police detectives, and they were firmly impressed with the knowledge these "civilians" possessed. If you want to safeguard yourself on the mean (and not-so-mean) streets, I highly recommend buying this book and putting its recommendations to use. By the way, I live an hour outside of New York City, and I have seen and identify with much of co-author Pfouts' experiences in the Big Apple. This book is not to be missed. -- Michael B. Bruneio
---
If you have never read a book or seen a video from Marc "Animal" MacYoung, you are in for a very different experience. MacYoung relies on many of his own street experiences to pass along information and techniques. This results in some wild tales and the liberal use of "street" language throughout the book. (Sometimes I wonder if Paladin puts their authors up to this). You'd probably not want your mother to read this, but for the reader who needs to get streetwise fast, take advantage of MacYoung's experience and skip the beatings of your own. -- Brad Parker, Defend University
---
Debunks many foolish myths about the how's and why's of violent crime. Covers aspects of life at home, in the car, on the street, etc., and deals with many different types of crime. They write about LA and New York in particular, and what they say may seem extreme to readers in safer locales. But this book contains valuable lessons for everyone. Full of useable, specific ideas for keeping ourselves safe. Has a "gritty" and thoroughly authentic flavour to it, and the authors aren't afraid of offending people sometimes -including us readers. That's great, because sometimes we need a jolt to help us face reality and do something about it. -- A Reader
---
Don't forget to check Package Deals for extra savings!