Do You See What I Am Saying?
Secrets of Body Language Made Simple
DVD
Van Ritch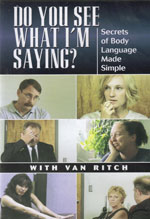 Whether it is your job to detect when a suspect is lying, you are trying to manage a business group, you're interested in being more successful socially (including with the opposite sex) or you are trying to be a better communicator -- the ability to read body language is a major component of your success!
This DVD is a simple and easy introduction to this critical life skill whether you're a cop, a bouncer or a businessperson.
Scientists have shown that 60 percent to 90 percent of all communication is accomplished through body language, not the actual words spoken.
Van Ritch, a former counterintelligence operative, will show you what people actually mean ... not by what they say, but by what their bodies show they are thinking.
Using real world scenarios, Do You See What I'm Saying teaches you how to interpret the body language that tells you of the actual emotions of doubt, acceptance, dislike, assessment and more.
From job interviews to dating, this powerful information can help you understand what people are truly saying and how they really feel -- not just what they want you to think.
Do You See What I'm Saying? Secrets of Body Language Made Simple, Van Ritch (Paladin Press) color, 45 minutes.
DVD Item# DseesayDVD
DVD -- $28 Retail: $30
---
Don't forget to check Package Deals for extra savings!