In This Hub:
NNSD Bookshelf
Basics Books/DVDs
Crime Prevention Book/DVD
Home Security Book/DVD
Knife Book/DVDs
LEO/Security Book/DVD
Legal Book/DVDs
Martial Art Book/DVDs
Psychology Book/DVD/CDs
Self-Defense Book/DVDs
Street Survival Book/DVDs
Weapons Book/DVDs
Women Books/DVDs
Bookshelf Index
Child Safety Hub
Criminal Mindset Hub
LEO-Military Security Hub
Knife Fighting Hub
Legal Hub
Martial Arts Hubs
Property Crime Hub
Psychological Survival Hub
Rape Hub
Robbery Hub
Self-Defense Hub
Stalking-Domestic Violence
Street Fighting Hub
NNSD Home Page
---
---
Marc MacYoung?
Dianna Gordon MacYoung?
Animal E-list
Crime Avoidance Lectures
Crime Blog
Colorado Classes
Contact Us
FAQs
Hosting A Seminar
Crime Prevention
Expert Witness
Knife Defense
Law Enforcement
Martial Arts
Military
Movie Consulting
Women's Self-Defense
Links
Our Linking Policy
On-line Store
Train with MacYoung
Testimonials
Terms of Use
Topics of Interest
The Resiliency Advantage
Master Change, Thrive Under Pressure
and Bounce Back from Setbacks
Al Siebert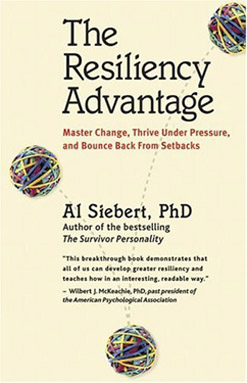 Winner #1 Self-Help Book at 2006 Independent Book Publisher Awards
Resiliency -- the ability to adapt to life's changes and crises -- is key to a healthy, productive life. Based on his deep knowledge of the new science of resiliency, Dr. Al Siebert tells how and why some people are better able to adapt than others, and how resiliency can be learned at any age.

Through anecdotes, exercises and examples, Siebert details a unique five-level program for becoming more resilient. You'll learn how to:
-- Sustain health, energy and positive feelings during the worst of times
-- Improve your analytical, creative and practical problem-solving skills
-- Strengthen your self-esteem, self-confidence and self-concept
-- Develop the specific attributes and skills found in highly resilient people
-- Sharpen your talent for serendipity -- the ability to convert accidents and misfortunes into lucky accidents and good fortune.

The Resiliency Advantage will enable you to bounce back quickly from setbacks, gain strength from adversity and meet life head on.

The Resiliency Advantage: Master Change, Thrive Under Pressure and Bounce Back from Setbacks (Barrett-Koehler Publishers Inc.) 2005, 225 pages, ISBN-13: 978-1-57675-329-3.
Softcover, Item# Bresiliency
Book -- $14 Retail: $14.95
---
Comments on The Resiliency Advantage include:
After reading Dr. Al Siebert's enlightening book, The Resiliency Advantage, I was reminded of the old adage that was often drummed into me by my parents, that our life is not determined by what happens to us but how we react to what happens, not by what life brings to us, but by the attitudes we bring to life. Thinking positively creates a chain reaction pertaining to our thoughts, events and outcomes-a kind of catalyst that can create extraordinary results.

Siebert begins his book by telling his readers how he came to the conclusion that clinical psychology and psychiatry are not mental health professions but rather mental illness professions. There does not seem to be any focus on what makes individuals mentally healthy, but rather on what causes mental illnesses and how do we go about treating these illnesses.

This prompted Siebert to do extensive research as to why some people survive many of life's ordeals while others seem to continually flounder. As a result of his thirst for knowledge of the subject matter he developed a good understanding of what he calls "the survivor personality."

In 1996 he published his first book on the topic, The Survivor Personality , and we now have the follow up, The Resiliency Advantage, that reflects the tremendous amount of knowledge Siebert accumulated in his search for the causes and effects of the survivor personality.

According to Siebert there exist several levels of resiliency that he deals with in depth in his book: optimizing your health, emotions and well-being; developing good problem solving skills; strengthening your inner selves; unleashing your curiosity and enjoy learning from the school of life; power of positive expectations; integrating paradoxical abilities; allowing everything to work well or the synergy talent; the talent for serendipity.
In order to reinforce the learning of these principles, Siebert provides many exercises, as well as brief case histories showing just how they work out in practice.

There is some excellent material in this book, particularly the sections dealing with learning from failures, benefits of curious and playful questioning, the power of positive expectations, hope, optimism, and self-reliance. It is also heartening to learn, as the author points out, that resiliency psychology, a relatively new discipline, is making good progress and is now recognized as quite vital in understanding how it can help people fare better during adversity and recover more quickly from life's ordeals.

Writing about new disciplines is always a challenge, given the negative feedback one often receives from the traditionalists. However, Siebert has risen to the occasion with his breezy style of writing, and he admirably presents an accessible work that could have easily strayed, leaving his readers with a sense of boredom. -- Norm Goldman, editor of Bookpleasures, Montreal
---
Dr. Al Siebert has been a pioneer in helping people move through difficult life circumstances to master adversity and grow stronger from their challenges. In alignment with the great Abraham Maslow, he has taken the road less traveled in psychology by studying what makes people strong rather than focusing on their weaknesses.

I was blessed to find Dr. Siebert's earlier book, The Survivor Personality at a time when I felt very victimized by the circumstances of my life. This was one of the most inspiring books I read. It helped open my eyes to perceive my challenges in a new way, so that I could move forward in my life journey emerging from my problems with greater well-being.

Dr. Siebert's new book, The Resiliency Advantage, contains down to earth, practical information that can help anyone overcome setbacks and sudden changes that a person experiences as threatening to their well-being. Without the usual jargon of "psychobabble" or "feel-good" superficial advice that I find impractical or unsustainable, this book will help you see your world through a new lens of resilience, one of the primary concepts in emotional intelligence.

Dr. Siebert uses wonderful stories to illustrate these ideas and guaranteed to open anyone's heart.

My favorite parts of the book are the practical exercises that encourage viewing our challenges from a place of strength and as a path of growth. Investing in this book is worth gold if you would like to move your life out of a survival mode and into one of thriving and getting better every day. I highly recommend this book to everyone seeking to make sense of any challenge, both personal and the challenges we face in our world today. -- Gloria R. Nash, "human energy educator, New York
---
Resiliency is vital to individuals and organizations. There is no better resiliency author than Dr. Al Siebert. In The Resiliency Advantage he makes powerful concepts seem like good, practical sense and he shows how to become stronger with useful guidelines and inspiring stories.

The State of Oregon was in crisis mode when we made Siebert's resiliency information available to state workers. As a result, we became confident that we could handle whatever challenges we had to face. It is great to see the wider world now able to hear the message that we can handle life's challenges with resiliency. Everyone -- wherever they live, whatever they do, whatever their struggles -- can grow stronger by learning from The Resiliency Advantage. -- Glen M. Fahs, training director, Portland, Oregon
---
Don't forget to check Package Deals for extra savings!




Survivor Personality
Learn More >
Order Now!


Freedom From Fear
Learn More >
Order Now!


Do You See What I am Saying?
Learn More >


Violence, Blunders And Fractured Jaws: Advanced Awareness, Avoidance and Street Etiquette
Learn More >
Order Now!


Affordable Security
Learn More >
Order Now!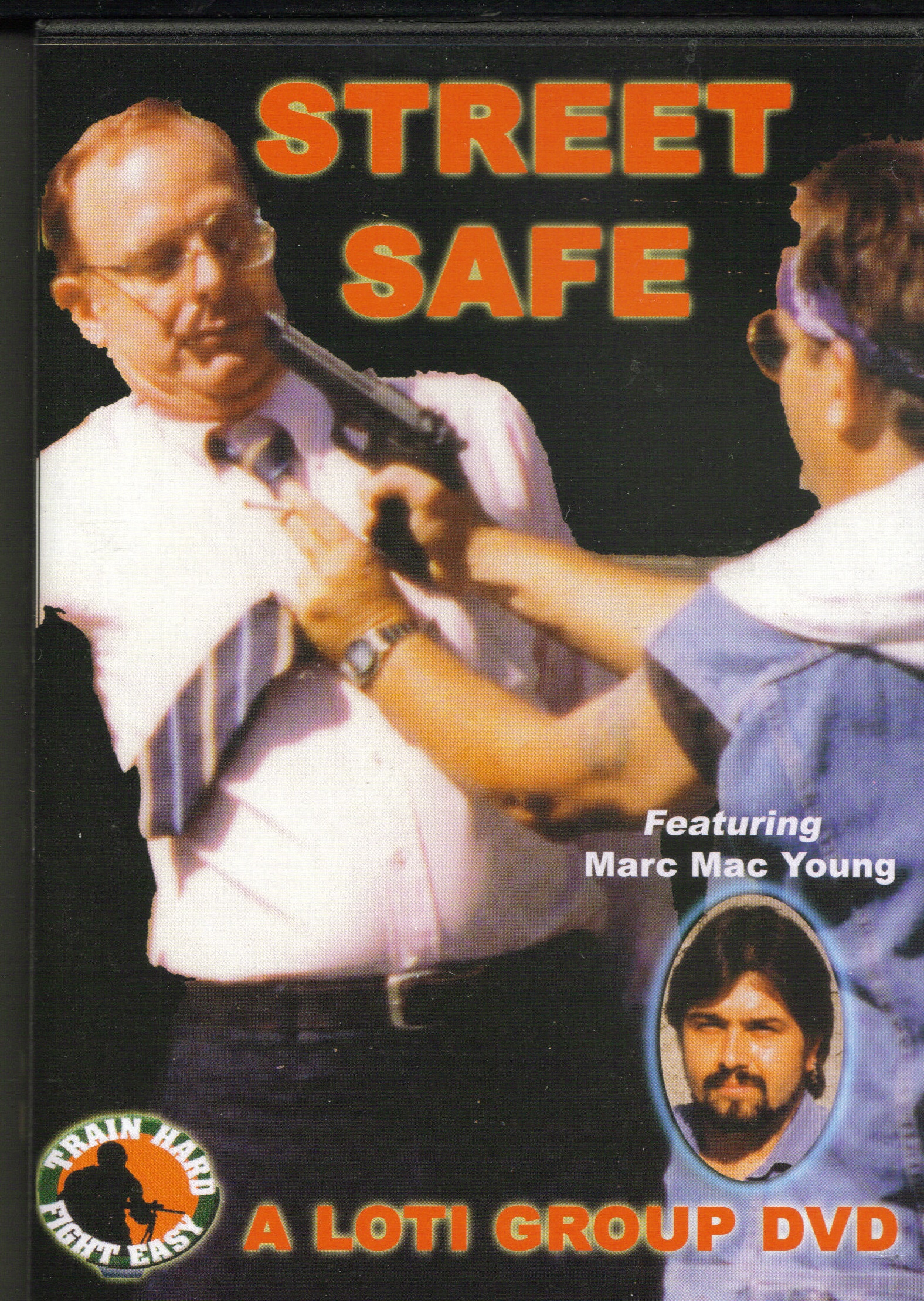 Street Safe: How to Recognize and Avoid Violent Crime
Learn More >
Order Now!


Turning Fear Into Power
Learn More >
Order Now!


The Missing Link: Self-Protection Through Awareness, Avoidance and De-Escalation
Learn More >
Order Now!


Minimum Damage, Maximum Effect
Learn More >
Order Now!


Surviving Workplace Violence
Learn More >
Order Now!


Emotional Survival for Law Enforcement
Learn More >
Order Now!