Stressfire
Gunfire for Police: Advanced Tactics and Techniques
Part 1 - Handgun
DVD
Massad Ayoob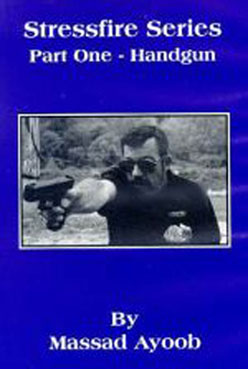 Learn maximum recoil control that lets you shoot -- and hit -- at a rate of four to six shots per second, even with full power handguns and one handed! Learn the advanced cover positions, ambidextrous shooting techniques, alternative sight pictures and trigger control secrets that make the difference in mastering the combat handgun!
As a companion to his groundbreaking book StressFire: Gunfighting for Police, in this video Massad Ayoob shares: the genesis of StressFire. He shows the advantage of strength over dexterity; core elements of a power stance and how to "shoot with the body; key points to enhance your hit potential; advanced stances and techniques; stress point indexing for handguns; stress reloading for both auto and revolver; training drills to enhance your overall performance; and much more.
Shot on location at the San Bernardino Sheriff's Shooting Range in California, Ayoob shares the secrets of handling a handgun under the compromising influence of stress and pressure in practical application.
Ayoob has held numerous state and regional championships, two national titles and three national records with combat handguns using StressFire principles. Here, he shows you graphically the secrets of StressFire that made him one of the first four-gun masters in IDPA, a champion shooter and a master instructor of the defensive handgun.
Stressfire: Part One - Handgun 93 minutes
DVD, Item# DstressfirevidDVD
DVD -- $34 Retail: $34.95
---
Don't forget to check Package Deals for extra savings!